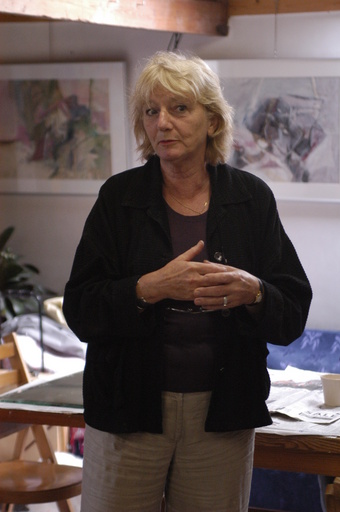 I am born (1945) and have grown up in Amsterdam.
Education:
Amsterdamse Academie voor Beeldende Vorming.
Motivation:
Through my paintings I intend to show my emotions to the observer.
Applied techniques:
Combined Techniques, Aquarelle, Gouache, Oils Paintings and Drawings. In case of combined techniques, various oil-painted paper fragments are collageted and subsequently painted with oil paint and/or crayon. The multi-coloured compositions suggest a spacial reality inviting the observer to give his or her own interpretation.
I use charcoal and/or red crayon for my drawings. One of my themes was expressing dansers of the ballet of "Le Sacre du Printemps" (Igor Strawinsky). Moving dansers were drawn in red earth colours to symbolize the sacrifice to Mother Earth.
Summer workshops:
"Painting alongside the river Amstel". These are 3-day courses presented in and around my workshop present in an old farm, situated on the border of the river Amstel.
Member of the Society of Amstelveen Artists, VAK